Modded TinyTrak3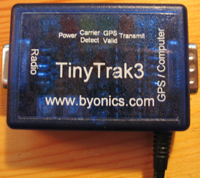 The TinyTrak is a microcontroller based APRS unit that, when coupled with a GPS receiver, can send position reports over an attached radio set. More information about these units is available from http://www.byonics.com/tinytrak There is a UK distributor at http://www.ekradio.co.uk/mb7usk/. While building a set of these, trying to minimise costs and size I made a few changes to the basic design.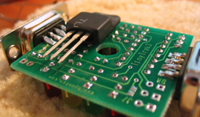 Firstly older TinyTrak3 units were purchased in preference to TinyTrak3 Plus units. The only functional difference being that the Plus model has been redesigned to include a larger voltage regulator capable of around 1amp output rather than the 100mA from the basic unit. At the time of writing the TT3 Plus cost £4 more than the basic TT3.

The TinyTrak kits were built following the instructions but leaving out the voltage regulator. The supplied 5V regulator comes in a TO92 style case, these were to be replaced with 1A units in TO220 cases to allow powering a GPS unit.
The GPS units used were GlobalSat BR-355, a SIRF III chipset based receiver praised by PocketGPSWorld in a review. Really any serial output GPS module that sends NMEA data at 4800 baud would be suitable, the low time to fix and low power make this unit ideal however.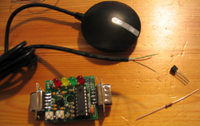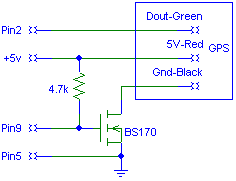 To keep connector costs and overall unit size down the GPS modules were wired directly into the TinyTrak. This resulted in an issue for configuration of the unit as the computer is connected to the same serial port as the GPS to configure the TinyTrak. Clearly it would be rather difficult to configure the TinyTrak while the GPS unit was still sending data. Rather than add a switch to the box a small FET was used to switch the power to the GPS. The control was wired to pin 9 of the serial port connector, which as yet has no function on the unit. The configuration cable had a link inserted from pin 5 (Gnd) to pin 9 (FET gate) so that on plugging in the configuration cable the GPS was powered off.
Costings
Prices checked at time of writing (10th Feb 2007)
Item
Cost
Notes
TinyTrak3
£23.99
http://www.ekradio.co.uk/mb7usk/html/tinytrak3.html
TinyTrak3 Postage
£3.00
BR-355 Wired GPS
£34.99
eBay Search Look for shop "Think Technologies" they usually sell the GPS along with a PDA cable
GPS Postage
£9.99
Strain Relief
£0.31
Maplin code JP42 for GPS cable entry
DB-9 Plug
£0.89
Maplin code RK60 for radio & power connection
DB-9 Housing
£1.49
Maplin code KE94 to cover DB-9 connector
1M 3A Power Cable
£0.59
Maplin code XS69 for voltage input to supply TinyTrak and GPS
1M Audio Cable
£0.69
Maplin code XR16 for audio in and out of radio
3.5MM Jack
£1.29
Maplin code FJ99 headphone jack
2.5MM Jack
£1.89
Maplin code FE67 microphone & PTT connection
TS7805CZ
£0.59
Maplin code QL31 5V 1A voltage regulator
4K7 Ohm Resistor
£0.13
Maplin code M4K7 Pullup resistor for FET
BS170
£1.00
eBay Search Pack of 8 FET's from "Bitsbox Electronic Components" or about £0.44 each from RS (minimum order/delivery applies though!)
BS170 Postage
£1.00
1M Serial Cable
£1.39
Maplin code XR25 4 core RS-232 data cable for configuration cable
2 x DB-9 Sockets
£1.78
Maplin code RK61 TinyTrak to PC serial port configuration cable connectors
2 x Housing
£2.98
Maplin code KE94 Cover for DB-9 connector
Per-Unit
£85.25
Config Cable
£6.15
Total
£91.40
This represents the costs for building a single unit from scratch, obviously you can make some savings if you already have cables or connectors around that you can use. Barring price rises though it shouldn't really cost any more than this.
All photos on this page are clickable to see originals, some other photos are in the gallery.
---
Author: Graham Auld
Dated: 10th February 2007