E.ON energy monitor: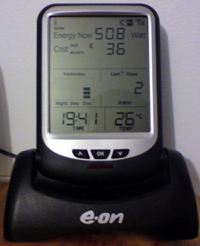 E.ON are offering customers free energy monitors, yesterday I unpacked one and set it up. It's pretty simple, a current clamp on the incoming mains, transmits this information wirelessly to a LCD unit from whence you can see your energy usage. All very nice, it even logs some historic data and accepts input from up to 9 appliance power meters too.
I was more interested by the serial interface... It is presented on an RJ45 socket and the unit comes with a USB-serial cable (Prolific PL2303) to connect up to your PC. According to the instructions, the enclosed CD has some windows software to track energy usage and such.
Looking on the web I find that this meter is otherwise known as the Current Cost Envi or CC128, the software downloads page offers drivers, and a range of applications to deal with the data. The majority of these are windows applications and probably work fine. I was heartened to spot that they supported Google PowerMeter, sadly I found only Windows software for taking data from the unit and posting it to Google power meter.
Fortunately those guys at Current Cost had their thinking hats on and published the XML output description for the CC128 on their website! Google, as you might imagine has the powermeter API online too!
If you are in a hurry then it's 57600 baud 8N1 and the value you're after is <watts> - regular data pops out every 6 seconds :-p
Step 1: Register your device (and you if you have no Google account)
Google PowerMeter is designed to be accessed through your device, rather than complicate my code for grabbing and uploading data I registered my device separately through a web page crafted to allow registration.
Once registration is complete, copy the long string in the text box and paste it in as the variable $authinfo (line 3 of my perl script)
Step 2: Start gathering data!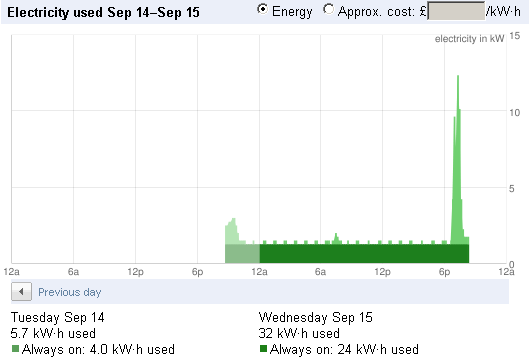 My proof of concept Perl script (when furnished with your registered authentication info), will simply open the first USB serial port on your linux PC then every 100 updates (about every 10 mins) will average them and upload the value to google power meter. *Note: you need Crypt::SSLeay or IO::Socket::SSL Perl modules installed!
Step 3: Wait a while and then look at your usage!
Head to the Google PowerMeter pages to view your usage, there are even options to download/delete all data
Step 4: Don't bother to E-mail me and tell me how rubbish my code is.
THIS CODE IS STRICTLY PROOF OF CONCEPT!!!!! Feel free to take it as a starting point for doing something better, I'll happily link to your site or even host the results... Don't come crying to me if you start uploading your 'leccy meter numbers to a man from Lagos cause you didn't check SSL...
My intention is to run this from my Netgear WGT634U on OpenWRT - that may explain my approach in keeping things incredibly simple.
Known issues:
Would be nice to auto-register a monitor from the script if no auth info present
Would be nice to log temperature (also spat out in XML)
Would be nice to log each reading and upload these in batch mode
Would be nice to upload every 10 minutes (max update rate for Google pm usage) rather than only after 100 inputs
I haven't made sure SSL certs are checked up on - or even used the SSL hash (SSL Security Hash)
I don't bother searching for a prolific USB device spitting the correct data, I just hard coded /dev/ttyUSB0
I rely on stty for setting serial port speed
I lazily rely on Date:Manip for getting RFC 3339 format time
No real error checking on post action
Ugly command line output
No signals support (I think this script should really be a nice light daemon suitable for almost any system)
Mixed coding styles
Generally junk data handling and variable usage
---
Updates:
Stuart got in touch and pointed me at his http daemon current cost interface and RRD tool generated graphs which looks pretty nice. Think GPSd for a power meter...

I just ordered some current cost dev boards, not sure exactly what I'm going to do with them yet but look out for something handy. If no-one spills the beans on this "C2 Architecture" on 433MHz I'll damn well work it out myself and we'll see what some open source PIC code on the transmitters can be used for! :o)

Dave got in touch with a version of my script that will upload to a pachube.com feed.

Several people have been in touch with various issues regarding the maths between monitor output and what should be sent to Google to give accurate readings. My current version of code seems to give reasonable results but may still fall fowl of a proper conversion, I just have not found the time (or inclination!) to sit down and think about it seriously. Your millage may vary...

Mal got in touch with a copy of his shell script solution which does the job under OpenWRT, it's just a demo with static values but it shouldn't take you long to have it accept command line argument input or perhaps even wrap in some grep-ing of the serial port!
---
Author: Graham Auld
Dated: 14th September 2010